Charm Health
The single SaaS solution for your practice. A fully integrated cloud-based EHR, Billing, and TeleHealth platform.
Grow Your Practice
Large multi-speciality physician groups to single provider practices and billing service companies of all sizes use the Charm cloud-based solution suite including Electronic Health Records, Practice Management, Patient Portal, TeleHealth, and much more…
Take a quick look!
Charm Captures Top Rated EHR
Tracked and reported by Gartner's Software Advice, the FrontRunners methodology uses recent, published user reviews to score products on two primary dimensions: Usability on the x-axis and Customer Satisfaction on the y-axis.
Checkout the FrontRunners landscape and vendor comparisons below!
One Integrated Cloud Platform
Many pain points offered from traditional client-server software are removed when you transition to a cloud platform.  Office interruptions due to routine maintenance and software upgrades are performed off hours and without any office involvement, while true cloud-based EHR/Billing applications can be accessed from any device (PC, tablet, phone) that has a browser at your convenience.  
Easily add Labs, Payment Svcs, and Telemedicine
Robust Medical Billing
Charm Billing can be configured for internal and external billing operations, enabling staff to leverage the coding from the EHR notation reducing transaction entry.  The customizable rules engine allows you to code faster with accurate and efficient codes, while the integrated Change EDI clearinghouse simples claim submission and ERA posting to help billers spend more time resolving issues and less time with manual entry.  
Take a brief tour of the billing basics!
Preferred Partner Pricing
Signup with Maritec Medical and receive preferred pricing and premier support.

One Tool.  Many Capabilities.
Charting
Cloud based online electronic health records (EHR) systems that allows you to create, manage patient records easily and securely using just your browser.
Data Analytics
Generate custom reports on practice statistics, patient statistics, medical conditions etc. Generate Meaningful Use reports to claim ARRA incentives.
Lab Integration
Ready to Use Lab interfaces for LabCorp, Quest and many other popular labs. Any other labs can be connected to ChARM EHR using standard HL7 based interface.
Appointment Scheduling
Create patient appointments and schedule resources using color coded calendar. Allow patients to book appointments from your website and patient portal.
Electronic Claims / Remits
Reduce claim submission cost and shorten reimbursement cycles by submitting claims and receiving remits electronically to improve payer response and minimize rejections.
Realtime Eligibility Checks
No need for calling or looking up payer web sites. Perform eligibility checks in realtime to verify patient insurance coverage before you book appointments and save staff time.
Patient Health Portal
Your portal doubles up as personal health portal where you can track wellness indicators and personal goals.  Exchange messages with your care team securely regarding your treatment
Credit Card Processing
Allow patients to pay for your services with their credit/debit card, making the billing process more efficient and thereby reduce patient waiting time at the billing desk.
TeleHealth
HIPAA compliant Zoom teleconferencing capabilities are embedded within the scheduling system to enable quick video/audio capabilities easy for the professional and patient.
Charm Mobile Health Apps.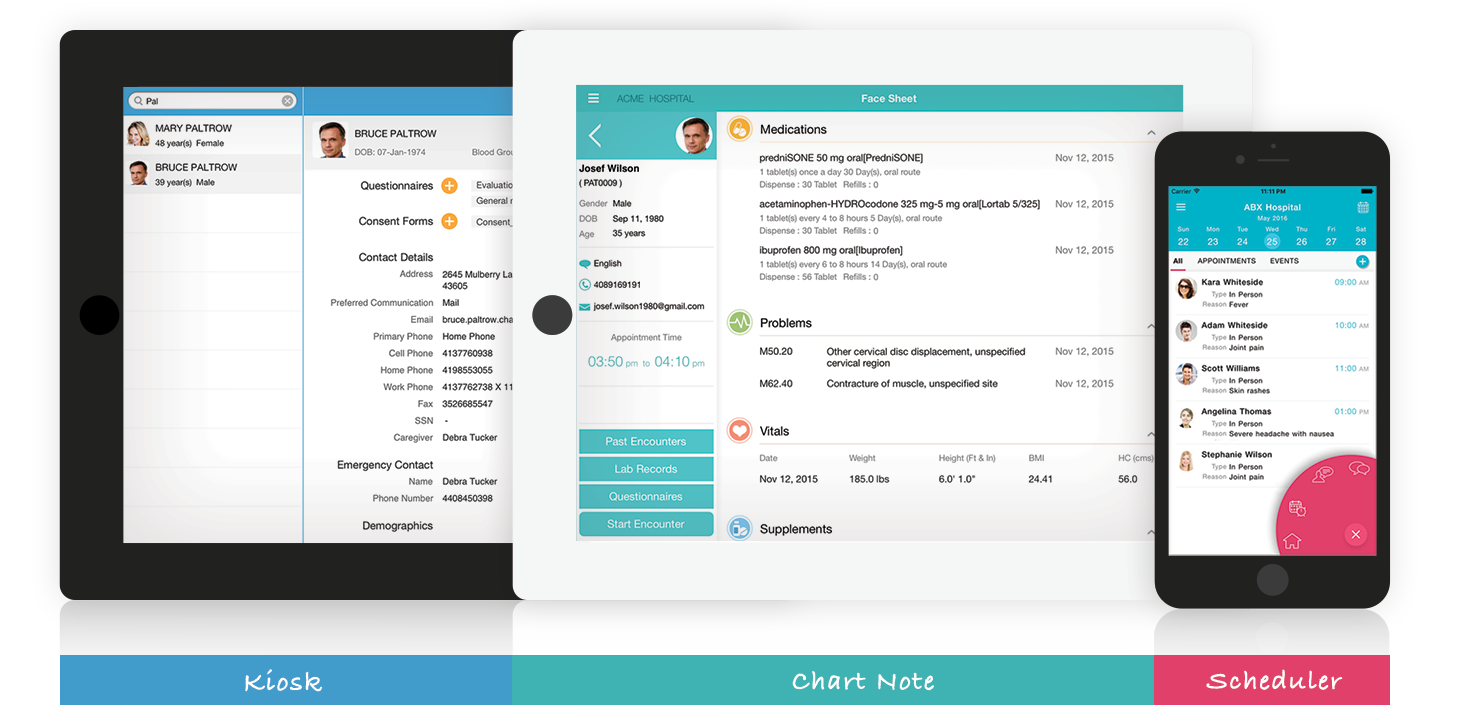 Take advantage of the industry leading patient engagement tools Charm offers including the patient health portal and patient kiosk, while helping your providers, staff, and external billers access to the office schedule, patient charts, and financials when and where they want.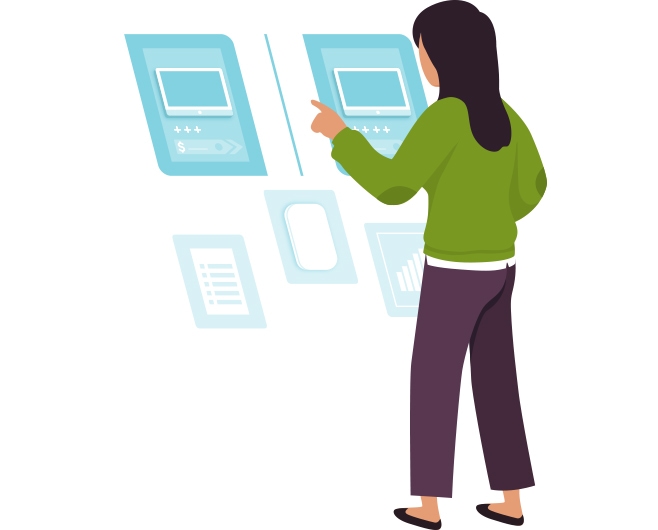 Charm Drill-Down Analytics.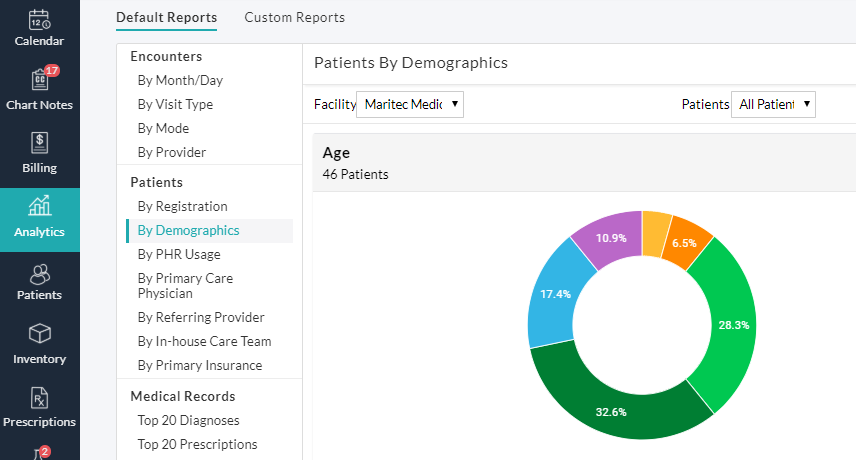 Out-of-box graphs to help visualize the patient demographics and office activities pertaining to patient care. Drill down reporting enables quick links to patient chart details for easy analysis and follow-ups.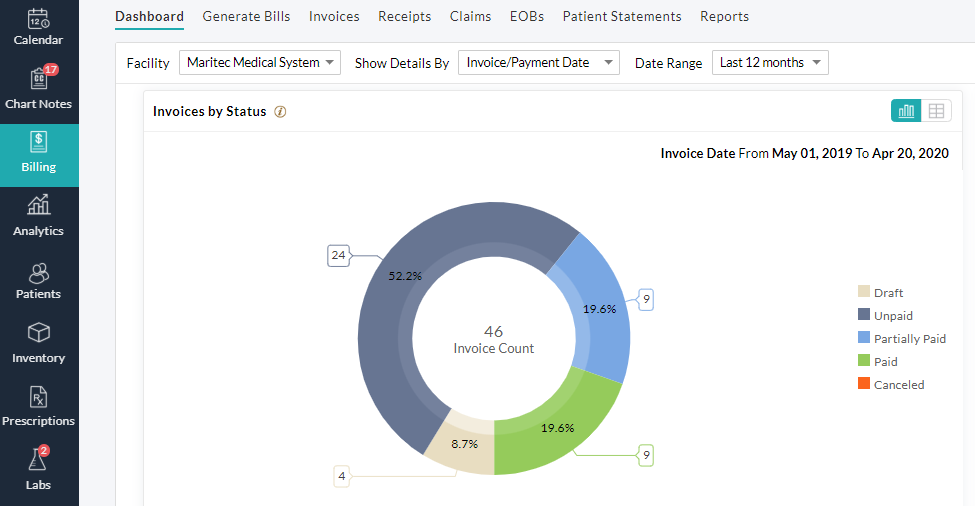 Provides a quick view of claims, collections, receivables and denials with average turnaround times. Interactive drill down reporting help you track and edit finer details.
Want To Learn More?
Feel free to drop us a line anytime to speak with someone directly.